Our internal health is reflected through our skin. If your skin is ridden with acne, blackheads, whiteheads or other skin issues, chances are you're dealing with hormonal imbalances, poor nutrition and oxidative damage.
Whether you're doing a home treatment or going for a facial treatment at a spa, these natural home remedies have great potential in treating acne and getting rid of the scars (regardless of your acne case being mild or severe), so make sure you include some of them in your facial treatment or diet:
Omega-3 fatty acids
To improve your acne, Omega-3 fatty acids contain anti-inflammatory properties, so you can include it in your diet by consuming walnuts, flaxseeds, albacore tuna or salmon. Alternatively, you can also take multi-nutrient capsule that contains fish oil.
Acidic foods
Flush pores easily with acidic foods like vinegar or citrus fruit juice. To quickly battle acne, dab a little of acidic juice or vinegar onto a cotton ball and carefully and gently swipe it on the affected areas.
Apple cider vinegar
Apple cider vinegar helps in exfoliating, reducing red marks, and treating acne as it contains lactic acids and malic. Make your own DIY toner by mixing equal parts of water and apple cider vinegar. Apply the mixture to skin using a cotton ball (make sure you shake it well before every use).
Lemons
Lemons serve as a skin lightener, exfoliant and disinfectant to prevent new formation of pimples and reducing scar appearances. Dip cotton ball or cotton swab in lemon juice and dab acne (make sure your face is clean), before rinsing it off with cool water.
Aloe vera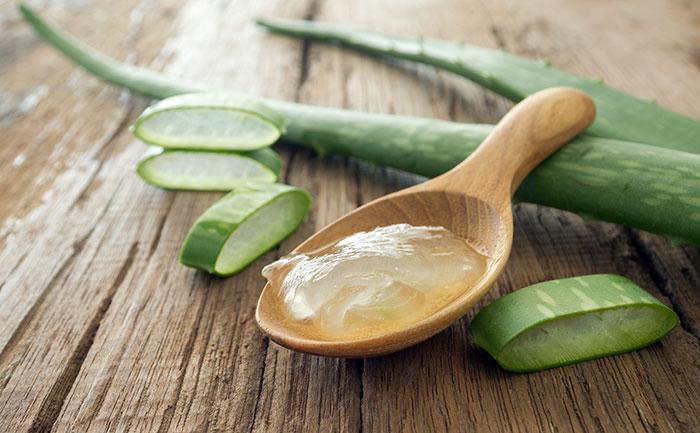 Aloe vera contains burn-relieving properties, which really helps in reducing scarring, fighting infection, and promoting healing of acne. Use a spoon to scrape the aloe plant gel before applying it to acne. If you can't find aloe plant, you can get aloe gel from pharmacies or health food stores (make sure it's pure, natural aloe minus added ingredients).
Chamomile
To decrease inflammation from acne, turn to chamomile. For 15 minutes, soak two tea bags of chamomile in 1 cup boiled water. Once the tea is cool, dip a cotton ball and dab on face after you've cleansed.
Mint
To remove pore-clogging oil, mint is a must-have. Clear acne before it begins by mixing two tablespoons of oatmeal and plain yogurt with fresh mint (finely chopped). Slather on face and leave it for 10 minutes before rinsing it off with water.
Honey
Honey contains antibiotic properties which help to improve acne. For instant treatment, you can apply one teaspoon of the sweet ingredient to affected areas. Alternately, you can also make a mask by mixing 1 cup of plain oatmeal with ½ cup of honey, slather it on face and leave it on for half an hour.
Green tea
Green tea helps in fighting acne as it contains antioxidant and antimicrobial compounds. You can lay a soaked bag of green tea over the affected area or wash your face with a cup of green tea (cooled, not warm).
It's unfortunate that many people would turn to topical medications and prescription drugs, instead of natural home remedies, to treat their acne problem and other issues.  Before you use manmade, chemical-laden types of medication for acne treatment, try using the natural home remedies first.